Giuseppe "PINO" DANGELICO
1939 - 2010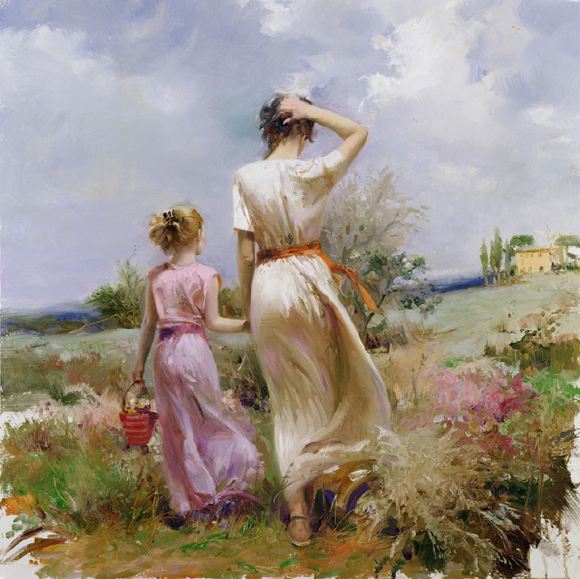 Giuseppe "Pino" Dangelico (1939-2010) was born in Bari, Italy. Trained at The Art Institute of Bari and later at Milan's Academy of Brea, he perfected his skills painting nudes and figures and was heavily influenced by the Pre-Raphaelites and Macchiaioli.
After establishing himself as a successful artist in his native land, Pino decided to immigrate to the United States in search of further artistic freedom and opportunity. He was soon discovered by the distinguished Borghi Gallery, which held several prestigious exhibitions of his work in New York and Boston.
While working as the industry's top illustrator, on the side Pino painted fine art oils; this body of work has become his trademark. Pino's unmistakable canvases elicit feelings of warmth, nostalgia, love and family. The delicately conveyed moments in time are the vision of his alter ego, a young boy surrounded by beautiful women – with his sisters, aunts and cousins serving as inspiration. His paintings are often set on picturesque beaches on the Mediterranean where he grew up. Pino's exceptional ability to capture the movements, expressions and deep contemplation of his subjects has brought his artwork a worldwide following and many commissions for private portraits.
His rich and vibrant work closely mirrored his personality. Pino's technique – founded by warm and exciting colors and a subtle approach to his subjects – is his hallmark and demonstrates why his original oils, limited edition giclées and serigraphs are sought after by collectors throughout the art world.